WhatsApp has added a new feature called "View Once" or "One View" to its messenger, whereby photos and videos sent after viewing by the recipient are automatically deleted and only visible once.
WhatsApp has made this new feature available to users of both Android and iOS. This feature is currently enabled for many users, including Iranian users. The purpose of enabling this feature is to allow users to have more management over content posted in chats.
Users for whom this feature is enabled will see the one-time viewing option in the caption section when sending photos or videos. If you choose this option, the opposite user can only view the video or photo sent once. When the contact sees the posted content and closes the chat page, the content is automatically deleted.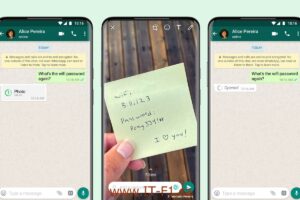 WhatsApp Introduces 'One-Time Viewing' Feature for Images and Videos
WhatsApp updates with 'one-time viewing' of images and videos
Once the content has been seen by the contact, the sender can notice this. Of course, there is a possibility that the recipient will take a screenshot of the content or save it, in which case the sender will not notice this.
Various news about this functional feature had long been published on WhatsApp. Previous news said that users with the help of the new feature can set an expiration date for photos and videos posted on this messenger. This means that they can specify how long the photo or video posted on WhatsApp is visible and after that the date the content sent from the WhatsApp chat will be deleted.
But what is now available to users in the WhatsApp update is the ability to view videos and photos once, and the user cannot set a specific date or time to delete them, but by opening the video and photos and viewing it only once, the video and video content from the contact's chat will be permanently deleted.