Android 12 has already been released as a trial version for some devices, such as Google Pixels, and offers users a variety of features, including Privacy Dashboard. But will there be a way to access the said feature without installing the latest version of Android?
Although Android 12 is one of the biggest updates to Google's mobile operating system in recent years, but many current devices, especially mid-range and inexpensive phones, will not get it. There is no next version.
What is Privacy Dashboard capability?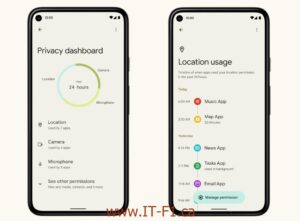 One of the best features added on Android 12 is the privacy dashboard, which is located in the Settings section. Users can monitor apps' access to sensitive information with the said feature. The use of important sensors (such as cameras, microphones and positioning) is drawn by apps in a circular chart for users. By selecting each of them, a timeline of accesses made by different titles can be achieved over the last 24 hours.
How to access Privacy Dashboard?
Although the final version of Android 12 has not yet been released and many devices will not receive it, it is possible to experience the features of the privacy dashboard with the help of the Privacy Dashboard application. The app tries to make the features offered by Google available to a wider range of users a little earlier. The user environment and details in the software also resemble the design of Android 12. Users can access different access to an app and timeline when using sensors.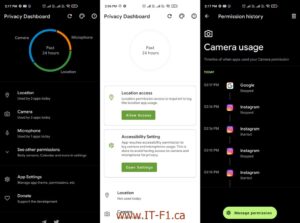 The introduced app can not only offer features associated with the privacy dashboard, but also provide indicators when apps use different sensors such as cameras and microphones. Google first introduced such a feature on Android 12 so that owners of Android phones know that the sensors are active. The said markers are displayed in the upper right corner. Users can also personalize markers, including changing position, size, transparency, margins, and more.
Why is it better to use the built-in functionality of Android?
The Privacy Dashboard app and the like require Accessibility permission to record details about access to other apps. The user's issuance of such a license makes all the information displayed by the device also identifiable to the application and raises security concerns. Although the developer has emphasized that this product cannot have direct access to the camera or microphone. So it's best to use such apps with enough insight and accuracy, and if your device is on the update list, upgrade it to Android 12 in the future. App access may also not be registered in some cases, but this problem is expected to be resolved in later versions.